S2 Chillera will start in
06.10.2023 at 19:00
News Ticker
| | | |
| --- | --- | --- |
| | 9 Jul 2023 | Roulette Coin added to Tournament Coins store! (500 each) |
| | | |
| --- | --- | --- |
| | 8 Jul 2023 | We have added 20 new tasks! Check it out! |
| | | |
| --- | --- | --- |
| | 7 Jul 2023 | Sorry for the delay with the start of the Double LOOT x SPAWN event. Calendar for the month of July has been updated. As compensation, the event will start today at midnight and will run until the end of Tuesday. |
| | | |
| --- | --- | --- |
| | 23 Jun 2023 | Gnomprona update, Hazard system finally works fine, added NPC Gnomadness where can you pick up your rewards |
2.8.2023 - Like a rollercoaster!

Author: GOD Tefcio
Hi! Couple important changes and informations today.
After a short holiday break, it's time to continue the fun! We've been toying with creating a custom server-to-server character transfer system recently to accomplish the server merge. What and why below!
As we said from the beginning, the S1 server is the main server, no resets and will remain so forever. The S2 server is a side server, which, as you can see from the activity, definitely needs a reset and a fresh start. But nobody wants to lose their progress! That is why we have created the possibility of transferring the character S2 -> S1 and it will be available forever (after the new start of S2 it will be a paid option, and until the start it will be completely free). To transfer a character to S1, just go here on the S2 server or simply click on the "Transfer character to S1" tab in Manage Account (on the S2 server). Move your characters so you don't lose your progress!
The date of the fresh start of the S2 server will be announced soon here and on our Discord - until the start you have time to transfer your characters. Then the ones not moved will be deleted!
EXP STAGE CHANGES!
With today's update introducing the character transfer system, the stages on both servers are being changed. After our experience with previous servers and analysis, the EXP stage on the S2 server was the perfect Easy Stage. On the S1 server, it was greatly exaggerated at lower levels, which made it impossible to get equipment for lower levels, because most of them simply hit a high level during the day. So from now on the S1 server will have stages as they were on S2(check here) and the new S2 server will get a new Medium Rate(check here)!
We are now starting work on server update and adding new features to introduce the latest version of real tibia with the start of the new S2 server!
15.6.2023 - News in custom content!

Author: GOD Tefcio
As you may have noticed, we have rebuilt the task system. The old system has been changed to the quest system (!quest) and there are only quests that give us items that we cannot get in any other way. Primal Quest has also been added (12x kill The Primal Menace = 1x Primal Bag). And new tasks can be picked up from NPC Billy Taskman, who is on the right when you leave Thais Temple. It gives us Tasks for various hunting grounds that count a few monsters at once. In addition, in the new task system, we can already do them in a group (provided that we have activated Shared Experience and at least one hit in task monster). In addition, once a day we can collect daily task from him, in this case for one specific monster.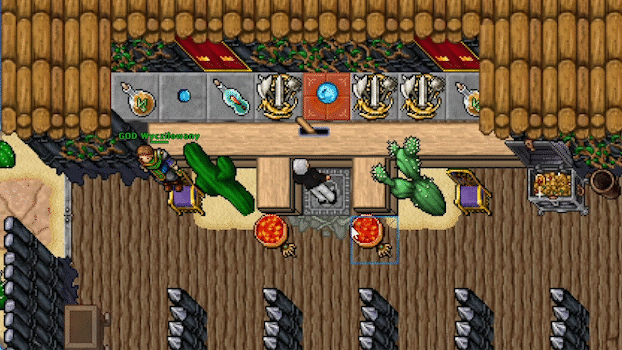 By doing tasks on a higher level, we get Roulette Coins and if we collect 10 of them, we can use roulette - more information here.
19.4.2023 - We pay for your EXP!

Author: GOD Tefcio
We came up with the idea to reward people who will be the first to reach the levels shown in the table below. We'll reward them with lots of Chillera Coins! Nothing easier! We only ask you to document the leveling with a screenshot from the Highscores table at the time of reaching the required level and upload it in the Ticket to our Discord server! As we always mention - we, the administration, do many things in life - and the server is only a teaser, so it's very possible that it will be hard for us to catch people who will reach this level because we may simply not be there then - so please report to Discord along with documentation. Thanks and good luck!
A lot of people ask if it will be possible to transfer tibia coins between S1 and S2 servers. These are even though the cooperating servers are completely separate, but we will give such an opportunity. We can exchange tibia coins via Ticket on our Discord server 1:1 charging 15% commission. For example, if you want to transfer 1000 tibia coins - on one server you lose 1000 and on the other you get 850. That's because the servers just have to pay for themselves somehow, and the second reason is because we just don't want to have a lot of ticket spam to solve more important issues, which is why we also encourage player-to-player trading, which we personally support!
9.4.2023 - CHILLERA.net side server info - 13.11 NO WIPE NO BOT

Author: GOD Tefcio
Hi! Analyzing your requests and feedback during the 7 months since the main Chillera.net server exists, we decided to open a side, additional server! Many of you wrote that they would like to start the game again, on a par with others, in addition, many of you also complained about the incorrect balance of Exp Stages on the S1 server. As far as people split 50/50, I personally prefer Easy stages to play - especially when I don't have much time. And that we have a machine powerful enough to run two servers - tadaaam! We officially announce that at the end of April we will see each other on the second Chillera.net server! After changing the engine from 12.91 to 13.11 on the main server, we have dealt with the problems and it is now stable! Exactly the same engine will be on the S2 - the changes that will be made only change the Exp Stage - the rest stays the same, have a look here. As we mentioned above - this will be a side server. We will focus our attention on S1, where events will mainly take place, where we will respond to requests more often, etc. This is such an extra place "for volunteers". The server will be just like S1 - no resets, no bots (only we will react to reports about bots instantly - this is the most important thing). So it's safe to play at your leisure! If you want and we have a lot of space on our dedicated server - then why not! Knowing life in the first days after the launch, there will be more players here than on S1 - it's normal, but we estimate that in the future it will be 70% S1 and 30% S2.
Informations
Boosted Creature:
Spidris
Boosted Boss:
Tazhadur
Exp Rate:
Medium Stages
Server Save:
Everyday at 8:00

(( Current date and time: 2023-09-22 02:43:01 ))
DOWNLOAD Game Client

Currently there is 1 visitor. • Page has been viewed 3208763 times. • Load time: 0.0308 seconds.
Copyright by Chillera.net. All rights reserved.